Riding The Zinc Wave
The global economy is hitting on all cylinders - accelerating the supply gap for zinc and sending the metal's price soaring.

With a large zinc resource near key infrastructure and a drum-tight share structure, Benz Mining Corp. (BZ.V) offers massive leverage on these trends.
Dear Fellow Investor,
If you follow the commodities markets, you know that a booming global economy and a growing supply gap have sent zinc prices soaring.
As the economy accelerates, the oceans of liquidity created by developed economies in response to the Great Recession will pump through the global monetary system.
The combination of rapid growth and increased inflation that will result suggest zinc, a key component of the modern economy, will continue to be a market darling in 2018 and beyond.

And, if you're looking to maximize your profits on the zinc play, tiny Benz Mining (BZ.V) offers investors the right project at the right price.
Benz Lands The Perfect Project
Investors need to be selective with their zinc plays: With smelters scrambling to find new sources of zinc, companies with projects that can be put into production in the next few years stand to reap the greatest benefits of higher prices.
Benz Mining's Mel zinc-lead-barite project in southeastern Yukon is just such a project.
Mel is located within the Selwyn Basin, an area that hosts some of the world's largest zinc deposits, and it comes with an inferred resource of 5.28 million tonnes grading 6.51% zinc, 1.86% lead and 45.05% barite.

These resources consist of 758 million pounds of zinc and 217 million pounds of lead. At current zinc and lead prices, that represents more than US$1.4 billion of contained metal value!

As you can see from the map below, Mel is well-situated in terms of infrastructure. It sits just 40 kilometers from the Alaska Highway, 510 kilometers from the railhead at Fort Nelson, B.C. and 670 kilometers from the tidewater port at Skagway, Alaska.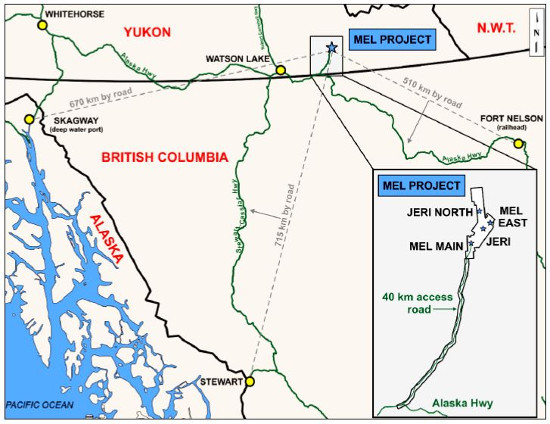 Given this access to infrastructure and the presence of a large, in-situ resource, Benz's management team is confident it can put Mel into production by 2021, which should be just in time to reap the full benefits of the growing zinc supply gap.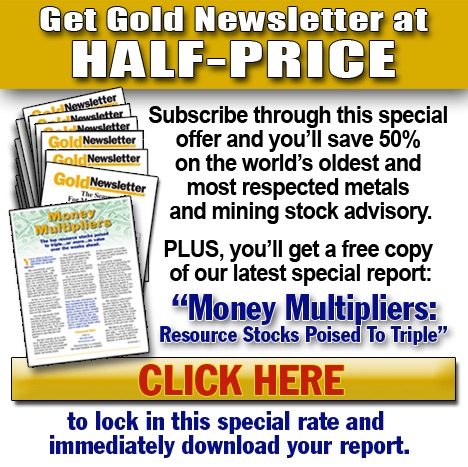 Exploration Blue-Sky…
All by itself, Mel's large zinc resource would make it a compelling play on the silver-grey metal, but the project has substantial exploration upside as well.

In addition to the resource-hosting Mel Main zone, the project boasts another three zinc-lead-barite, strata-bound zones.

The Mel Main zone has seen the lion's share of the 90 holes and 16,759 meters of historical drilling that have tested the project.
But that leaves the Jeri and Jeri North zones only lightly drilled - and the Mel East zone completely untested by the drill bit.
After an extensive program in 2017 that focused on infill drilling of the Mel Main zone, Benz will focus some of its 2018 program on testing Jeri, Jeri North and Mel East.

Given the past data from these zones, and their location in the zinc-rich Selwyn Basin, any one of them has the potential to triple the known resources on the Mel project as a whole.
…With A Barite Kicker
Adding allure to Mel's nascent production story and its exploration upside is the presence of barite in the mineralization at Mel Main.
Barite would often be considered part of the waste rock from a mining operation, but not here: Barite is used in oil and gas drilling, which is prevalent in both Alaska and western Canada.

If Benz can verify the purity of the barite at Mel, it has a ready-made market for this material. A 2014 study conducted by World Industrial Metals suggested Mel could provide up to 50,000 tonnes per year of barite to this market at $100 per tonne.

Flash forward to 2018, and barite is currently trading between $150 and $220 per tonne...and a local barite mine included in the study has run out of ore.

Thus, Benz might be able to sell up to 260,000 tonnes of barite per year at prices well above $100 per tonne.
The Chance To Quadruple Your Investment?
Consider this: Benz Mining is currently trading at around C$0.15 a share and has 25 million shares outstanding, implying a market cap of just C$3.75 million.

A look around the universe of zinc plays shows similar companies with less advanced projects trading at enterprise values four times greater than Benz's enterprise value per zinc tonne.
On this basis, Benz would have to rise to C$0.60 a share just to catch up to its peers.
And with news soon to flow from its drilling at Mel and investors hot on the trail of ways to leverage the zinc story, Benz looks perfectly positioned to deliver big gains in 2018.

If you're looking for a zinc play with the potential to quadruple your money, Benz Mining has all the elements in place to make that happen.
CLICK HERE
To Learn More About Benz Mining Corp.